Few saints in modern times have captured the hearts of the faithful as much as Saint Maria Goretti, made a saint in 1950 by Pope Pius XII in the Church's first outdoor canonization in St. Peter's Square.
The event drew an adoring crowd of more than 500,000 — including Maria's mother and the man who had murdered the young girl. Pope Francis has pointed to her as a great example of forgiveness.
Eleven-year-old Maria Goretti died July 6, 1902, after being stabbed 14 times in an attempted rape. Her last words on her deathbed were of mercy towards her 20-year-old attacker: "I forgive Alessandro Serenelli … and I want him with me in Heaven forever."
Six years into his 30-year sentence, Serenelli famously reported receiving an apparition of his victim within his prison cell. That vision began his dramatic transformation from a violent and ruthless killer to that of a gentle and renewed soul intent on spreading devotion to God and his saintly victim. In his words, "Maria's forgiveness saved me."
The 2015 American tour of the relics of the youngest canonized saint in the Catholic Church, St. Maria Goretti, drew thousands of visitors during its Pilgrimage of Mercy. 
It was the first time the relics of St. Maria Goretti have come to the US and only the second time they've left Italy.
The tour included stops at 25 Catholic dioceses spanning 16 states, and by the end, will have included the Archdioceses of New York, Boston, Newark, Philadelphia, Detroit, Chicago, Atlanta, Houston, and Oklahoma City. Parishes, schools, and prisons hosted the relic tour.
St. Maria's remains are inside a glass-sided casket. Inside the casket is a wax statue containing her skeletal remains. St. Maria's body is not incorrupt, and none of the sacred remains are visible. However, the skeleton is complete, save for small amounts of bone that have been placed in reliquaries and her right arm which was donated by her mother to the Church of St. Nicholas (now known as the Sanctuary of St. Maria Goretti) in her birth town of Corinaldo, as it was with her right arm that Maria defended her purity and prevented Alessandro Serenelli from raping her.
On July 7, 2010, Pope Benedict XVI spoke of Goretti at his General Audience during his blessing for newlyweds.
The Holy Father described her as "a girl who, though very young, was able to demonstrate strength and courage against evil."
"I invoke her for you, dear young people," he said, "so that she will help you to always choose the good, even when it is costly."
He made the same invocation for the sick, "so that she will sustain you in enduring your daily sufferings," and for newlyweds "so that your love will always be faithful and filled with mutual respect."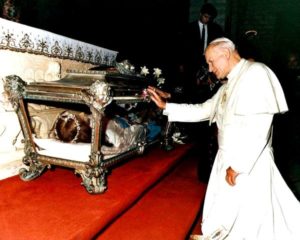 In a letter to Bishop Agostino Vallini of Albano on the occasion of the 2002 centenary of the death of the 11-year-old Pope John Paul II called her as a "little and gentle martyr of purity".
"What a shining example for youth!" the Pope exclaimed in his letter. "It is hard, for the uncommitted mentality that invades a good part of society and the culture of our time, to understand the beauty and value of chastity."
"From the behavior of this young saint emerges an elevated and noble perception of her own and others' dignity," the papal message states, adding that it must surely be "a lesson of great importance" for our time.
"Faced with a culture that values excessively the physical character of relations between man and woman, the Church continues to defend and promote the value of sexuality as a factor that affects all the aspects of a person and, hence, must be lived with an inner attitude of freedom and reciprocal respect, in the light of the original plan of God," the Pope continued.
"In this perspective, the person discovers himself or herself as the object of a gift and is called at the same time to become a gift to the other," the Holy Father stated.
John Paul II also presented Maria Goretti as a model of forgiveness, for she was able to forgive her murderer, Alessandro Serenelli, a disturbed youth who stabbed her repeatedly with a knife.
Maria's forgiveness was decisive for Serenelli. When he left prison, after completing a 27-year sentence, the first thing he did was to visit Maria's mother, to ask for her forgiveness. He found a job as a gardener in the Capuchin monastery of Macerata, where he spent the rest of his life.
"May humanity follow with determination the way of mercy and forgiveness!" the Pope implored.
He added of Maria: "I especially propose the example of this saint to youth, who are the hope of the Church and of humanity."