Father Pierluigi Maccalli, who was kidnapped in Niger on September 17, 2018,  and recently set free, received a warm welcome from Pope Francis today.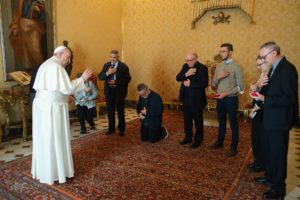 According to the Holy See Press Office, the Holy Father received the Italian missionary today, Nov. 9, 2020, in the Vatican. While no other details were stated, photos–those seen in this article–were published by Vatican Media.
Father Maccalli, originally from the diocese of Crema, already a missionary in the Ivory Coast for several years, worked in the parish of Bomoanga, diocese of Niamey. His mission is located on the border with Burkina Faso and about 125 km from the capital Niamey.
Fr. Antonio Porcellato, Superior General of the Society for Africa Missions, last month said: "The release of Father Pierluigi Maccalli is the most precious gift for World Mission Day which we will celebrate Sunday, October 18."
Fr. Porcellato expressed in a message sent to Fides News Agency: "The joy of our great family of the Society of African Missions is immense. Our gratitude to God is even greater. Our joy joins the joy of Maccalli's family, of our confrere Fr. Walter, Pierluigi's brother, and of the many people involved, who prayed with us and dedicated part of their lives to the thought of Father Pier Luigi, especially the entire Diocese of Crema, and the Archdiocese of Niamey."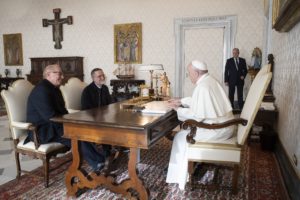 He invited everyone to think and pray "for other people who are still in the hands of their kidnappers. Let us pray for the numerous victims of this blind and senseless violence…'
The Bomoanga parish where Father Maccalli was serving has been described as an isolated and neglected area because of the lack of roads, communications, and infrastructure, according to Vatican News.  It's an area afflicted by structural poverty with serious problems that derive from lack of health care, lack of water, lack of education.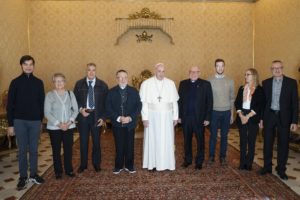 Religious had been warned in his area by police and law enforcement agencies that they registered suspicious movements of jihadist militiamen right at the border with Burkina Faso. After the abduction, media reported  how in the neighboring region of Burkina Faso, there is, in fact, a vast forest in which the jihadist militants have their bases. Currently, the diocese of Niamey has sent a group of priests to the village of Father Maccalli to verify the facts and to make contact with the local community.