A mission of faith…
This is how Vincent Levien describes the one-of-a-kind Emergency Task Force he founded to combat coronavirus for New York, the epicenter of COVID deaths in the US. New York's COVID-related deaths number more than 20,000 of the country's now more than 100,000.
Vinny, a husband and father, has been Director of External Affairs for DeSales Media Group, based in Brooklyn, where for decades, he worked closely with government, diplomatic and external affairs, as board member of the Pave the Way Foundation. He especially worked closely with government officials, and even presidents, at Ground Zero. He played an important role during Pope Francis' visit to New York in September 2015.
Vinny's work was enabled in part by the blessings and financial support of Bishop of the the Diocese of Brooklyn, Nicolas DiMarzio and Msgr Kieran Harrington of the Desales Media Group.
Bishop DiMarzio's support for such an effort has further distinguished himself during this pandemic internationally.
The Emergency Task Force has acquired and distributed thousands of masks, sanitizers, gloves, face shields, and other vital protective equipment. The team is also responsible for facilitating the delivery of over 50,000 pizzas to over 40 hospitals and medical centers, as well as to NYPD police precincts, FDNY stationhouses, food banks, and community organizations throughout the city.
It has been coordinating logistics and the procurement of personal protective equipment and other essential medical supplies for NYS Office of Emergency Management, Governor Cuomo's NYS Troopers Protective Detail, New York City Police Department, Fire Department of the City of New York, FDNY Emergency Medical Services, NYC Office of Emergency Management, and other first responders and medical professionals who are fighting the pandemic on the frontlines.
Moreover, the Task Force has coordinated with the Catholic Telemedia Network (CTN) and the Schools Office for the Roman Catholic Diocese of Brooklyn to deliver iPads to schools where many of the families do not have the financial resources to purchase equipment that can be used for remote instruction from teachers.
While some of the supplies that have been distributed were the result of donations, much of the personal protective equipment was purchased by DeSales Media Group, who also funded the Emergency Task Force through payroll, rental vehicles, and other expenses that have proven to be critical to their ability to help those who need it most.
Here is our interview with Director and Founder of the Emergency Task Force, Vinny Levien:
***
ZENIT: How did the task force and your role in the task force come to fruition? 
Vincent LeVien: When it became clear that schools and businesses would be closed, I went to Monsignor Harrington and Bishop DiMarzio with my idea of creating the COVID-19 Emergency Task Force. They said I had their full support. Then I reached out to long-time friends who I knew had the right experience to make it a success who I worked with down at Ground Zero after 911 on another Emergency Task Force, of which I was the director of. Nineteen years later, we are back helping to save lives.
ZENIT: What moments during all your work have affected you personally? 
Vincent LeVien: The death of Father Jorge Ortiz-Garay hit me hard. He was only 49 years old and was someone I worked with for 8 years. He deserved better. So, when I heard that the family was having a hard time getting him home to Mexico, I did everything I could to make it happen. I contacted everyone I knew from Senator Schumer, Mayor, Governor, White House. I took Father Jorge to the airport and had the PAPD police give me access so that I could personally load his coffin into the plane.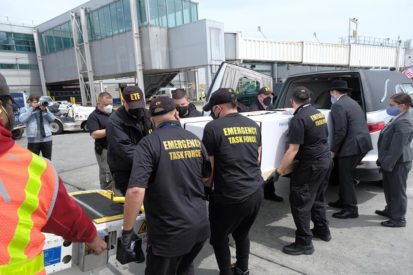 It was important to me that we could take care of one of our own and make sure Father Jorge could go home to his final resting place. Father Jorge was the first COVID 19 body allowed into Mexico. We couldn't have a funeral in New York, but this way I could say goodbye.
ZENIT: Could you share some anecdotes of what initiatives have been especially meaningful or helpful? 
Vincent LeVien: When I heard that Catholic Charities would be hosting food distribution popup events in impoverished neighborhoods, I didn't know what to expect. When I got there, I saw people who looked hungry. So, for the next popup, I came back with thousands of masks to distribute to those waiting in line, and chocolate for the kids. I hadn't expected to see kids waiting in line for food. To date I have donated over 20,000 masks and two pallets in chocolate, gloves and sanitizer.
ZENIT: What do you expect going forward? What more are you working on? 
Vincent LeVien: The longer this drags on, the worse off people will be financially. While there's a moratorium on evictions and foreclosures, there's no order against hunger. As money runs out, there will be more and more people in need of food to keep their families from starving. That's what I want to do.. Help people in need for food and make sure they have food for their families.
ZENIT: How has your faith helped you to keep going as you work without breaks/without sleep….
Vincent LeVien: Even though I am out every day going to hospitals, food pantries, and distribution sites for equipment, I always stop at my office at the Co-Cathedral of Saint Joseph. I know that it's just a building that's mostly empty but it's comforting to see it's always there. I pray every day that I get to go back home to my family and that we stay healthy and safe. This truly has been a mission of faith..
ZENIT: What can other cities learn from what you have done in New York, and how is New York doing currently? 
Vincent LeVien: As this spreads to other areas of the country and parts of the world, act before it's too late to make a difference. Shut everything down immediately. Shelter in place. Bring in the military to handle this as a war zone and make sure you use all resources. I can't say you will make it better, but I will say, you won't save everyone, and you can make it less bad than it would have been otherwise. New York seems to have stabilized in terms of new infections and hospitalizations, but people are broke and hungry. Just because the daily number of deaths have gone down, that doesn't mean we are out of the woods. Until there's a vaccine or treatment, keep wearing your masks and be kind to one another.