"It was the best of times, it was the worst of times, it was the age of wisdom, it was the age of foolishness, it was the epoch of belief, it was the epoch of incredulity, it was the season of light, it was the season of darkness, it was the spring of hope, it was the winter of despair." ― Charles Dickens, A Tale of Two Cities
Charles Dickens was not writing about the 2020 coronavirus pandemic, but his words from a different time and place certainly ring familiar to millions of the faithful around the world.
Many millions have been on lockdown, adhering to government mandates to stay at home, "socially distance" while being barred from jobs, school, and Church. This has produced a living situation few have experienced before, never expected to experience, and hope to never experience again.
As much of the world prepares to reopen churches and business, Zenit talked with a cross-section of people of faith to learn how they faced the best and worst of these times – and what they hope to happen in the months ahead.
We asked the participants in this admittedly non-scientific-but-anecdotal survey four questions:
What was the hardest part of being on lockdown?
How did you maintain your spiritual life?
Looking back at the past couple of months, what didn't you do that you wish you had done?
What are you looking forward to most after things open up?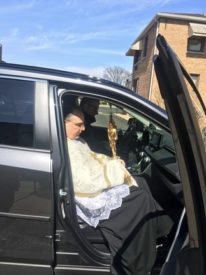 Among the clearest responses came from Fr. Luke Winkelmann, pastor of St. John Vianney Parish in the Archdiocese of Chicago:
The hardest part of the lockdown was not being able to offer confession to my parishioners, not seeing the devout, the people not able to attend the Holy Sacrifice, or receive. My spiritual life was much like it always is: daily discipline of prayers: an hour of mental prayer, breviary, Rosary. As things open up I look forward to baptizing children, marrying couples, and giving Holy Community to the faithful.
How did others respond to our questions? Following is a sample:
What was the hardest part of being on lockdown?
The hardest part of being on lockdown was that I felt, and the feeling persists, that I had stepped into a work of Ray Bradbury's fiction.  The trouble was, and remains — Bradbury being one of the most entertaining and thought-provoking writers to have graced these United States– that if we were living a fiction, it would be entertaining and thought-provoking; we are not.  This is all as real as rain. – Sara Sullivan, Cumming, Georgia
***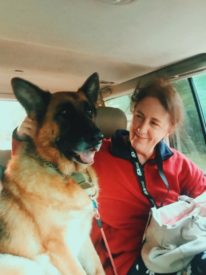 Spending so much time alone. Gregg has been able to keep working while I've been working from home. I've discovered how even for myself how much connecting with others is important to me. Another challenge has been how to manage the anxiety of other people and their fears about the future of their jobs, how to manage work and schooling their children at home, how to help everyone be able to be okay with a slower pace. – Jeannine Backstrom, Minnesota
***
Realizing the lack of leadership and unity in the world to confront the threat united and following a well-thought plan. — Roberto Sanchez Mejorada, Atlanta
***
By far the hardest part of lockdown has been not having access to the Holy Sacraments; confession, Eucharist and Adoration. Not having the physical presence of Christ visible in my every day week has taken a lot of getting used to. While nothing can ever fill that empty space, it has taken getting used to. Apart from that, the kids not being able to see their grandparents has been difficult. I know they enjoy and learn a lot from family and it is hard to explain to them the loss of that in-person connection, though online hangouts have again been a blessing in staying connected. Apart from those two things, really, nothing. Being a fairly self-reliant family we can be content with less, content with ourselves and happy doing simple things that bring joy, we just don't need much "extra".  – Adrienne Fair Leach, Sycamore, Illinois
How did you maintain your spiritual life?
Well, this was actually the greatest grace for me in this time…having more time to pray. I would wake up and get a cup of coffee and do my morning prayer and also I added in a 33-day consecration to St Joseph. It was such a sacred, peaceful time I will always treasure and be grateful for. – Lauren Hawkesworth, Atlanta
***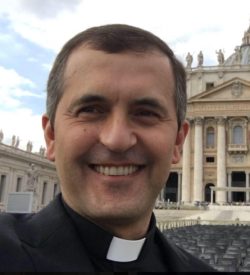 Lockdown has also meant slow down. It has been a great moment to get back to some spiritual practices of my novitiate, such as adoration to the Blessed Sacrament throughout the day. Our community life has also grown tremendously since we are all stuck in this together, sharing creative ideas to be on mission even if from home. I feel that our community has become more vibrant in our discipleship. I have also been very much aware of how privileged I am to be able to celebrate Mass and receive communion every day, and this has helped me dust off any routine that may have been present in my priestly life. – Fr. Benjamin Clariond LC, Cumbres International School Querétaro, Mexico
***
I was able to handle the lockdown during Lent because I saw it as penance. But when it continued through Easter, I was more and more perturbed. If we hadn't found a church an hour from our house giving communion through the car window, I don't know what I would have done. – Bloomfield Hills, Michigan
***
From the beginning of the shutdown, I saw a spiritual opportunity to embrace a prolonged "Holy Saturday" experience of prayer.  Our Lord, in a way, was in the tomb, trapped in the tabernacles, shut off from His followers; clearly, Christ Jesus is beyond and above any humanly constructed restrictions.  Praise God that the Mass is returning. Through all of this, praise God for our priests, and I am so thankful to the priests who switched on their electronic devices to allow us rich experiences of spiritual communion. — Sara Sullivan, Cumming, Georgia
Looking back at the past couple of months, what didn't you do that you wish you had done?
More exercise! — Lauren Hawkesworth, Atlanta
***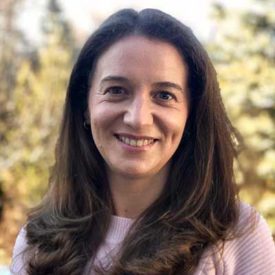 As I sit at my "home office" of an exercise ball and a card table, I wish I would have evaluated a slightly more permanent set-up for remote work. But on the spiritual side of things, I would have like to participate in Mass from different parishes, or I even had a friend attend a Byzantine Divine Liturgy. Also, I would have liked to try streaming an adoration chapel during prayer to help me focus more during prayer since I could not attend my weekly adoration time. – Keaton Leach, Sycamore, Illinois
***
My daughter and I were to go to Holy land in May 2020.  Wish I had done it last year!  Have traveled a lot…wish I had done more.  Have been putting off visiting family and friends (states and overseas)…wish I had done it. Wish didn't put off doing things that needed to be done. – Joyce Pope, Chicago
***
The crown of my tooth came off in the first week of the lockdown. The dentist told me that he could be fined if he were to put it back on since the government didn't consider that enough of an emergency. This has involved some pain for me, so I wish that could have been taken care of sooner. I still need to go… Dr. Joan Kingsland, Rome
What are you looking forward to most after things open up?
I'm looking forward to going back to Mass as a family; both for the sacramental grace of the Eucharist and to undo any bad habits our kids have developed while trying to participate from home. The hardest part, so far, about being on lockdown has been trying to attend Mass as a family. Because we are watching from home, it has been very hard to engage our toddlers in the Mass when their toys are in the next room. It has lost all reverence and "otherworldliness" for them since there isn't anything special about opening up the computer and trying to participate from home. – Keaton Leach, Sycamore, Illinois
***
Having some normalcy. Going to church and having the freedom to go to places. — Joyce Pope, Chicago
***
Return to regular Mass mostly.  And hoping to see the continuing decline in new COVID cases and deaths – i.e. less suffering.  I thought the pandemic lockdown did have side-benefits of reducing some of the sinful activities that are now part of everyday public life — and I am not looking forward to that part of society resuming. — Chris McLaughlin, Cove, Oregon
***
Being able to go into the Church and just see Christ there. I recently was able to go to confession and enter the church and it was a HUGE blessing! Receiving the Eucharist will be one of the greatest gifts. – Adrienne Fair, Sycamore, Illinois
The Best and the Worse?
While the simple questions Zenit asked prompted a wide range of responses, there were common themes.  Everyone mentioned the pain of being away from the sacraments and all look forward to being back in Church, receiving the Blessed Sacrament.
Nobody suggested being locked down in response to the pandemic was something they appreciated and enjoyed. Still, there was a consistent theme of unexpected blessings and appreciation for friends and family members who they couldn't visit in person.
Several mentioned that being forced to connect with family via computer video has resulted in more frequent contact, a sense of closeness, even healing of broken relationships.  As Dr. Joan Kingsland, a Consecrated Woman of Regnum Christi, put it: "There have been online family get-together moments that have been really precious that we wouldn't have had were it not for the lockdown. There has been healing in a family relationship during this time that came through this event."
And one couple in Illinois who have been married for more than four decades said that being together has been a real blessing. "It has been wonderful being together."