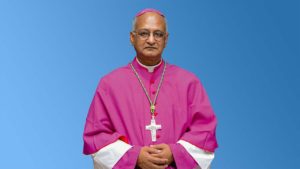 With great shock and sorrow, we heard the news of the death of our dear Archbishop of Chittagong, His Grace Moses. M. Costa CSC.   Surviving the hard-fought battle against Coronavirus, sadly he succumbed to a stroke.   Our heart goes out to his family, his faithful and his Archdiocese.  These are most challenging dark moments.  May the light of faith guide us through the stormy seas of sorrow.
All along his life, he remained a zealous missionary, with what Pope Francis would call "Missionary Mentality."  Called upon to be the shepherd of two dioceses, Dinajpur and Chittagong, he excelled in proactive pastoral care of his people caring for their spiritual and physical welfare.  He established many health centers, educational institutions, charitable organizations, and nonprofit.
Blessed with an endearing personality, firm but pastoral, farsighted, and missionary-minded, he reached out to all, Christians and non-Christians.  He built up the profile of the Church as a servant of the poor.
His untimely death leaves a great void in the Bangladesh Church.  But the culture of pastoral care he leaves will continue to grow and the human welfare institutions he established will continue to nurture the people for the generations to come.
May his soul rest in peace.   May he continue to be the heavenly intercessor for the people of Bangladesh.
With Prayers,
+ Cardinal Charles Maung Bo., SDB
Archbishop of Yangon, Myanmar.
President of Federation of the Asian Bishops Conference. (FABC).