The coronavirus pandemic brings a host of tragedies: Death of friends and family, loss of jobs, social isolation.
But for Catholics facing their own death or that of a loved one, a special loss is felt by Catholics who fear not being able to receive the anointing of the sick, last rites, before dying. To address this potential spiritual distress, a team of two dozen Chicago priests have volunteered to visit coronavirus victims, while carefully following guidelines set by the Archdiocese of Chicago to avoid spreading the disease.
Several priests have been assigned in each of the six vicariates of the archdiocese to carry out this important mission of mercy. Each is under the age of 60 and has no underlying health issues that would make them especially vulnerable to coronavirus.
"I think that for individuals and families, it really gives the sense of comfort and peace to know in this moment they're not alone," Rev. Matt O'Donnell, pastor of St. Columbanus in the Park Manor neighborhood, told the Chicago Tribune. "When the anointing of the sick is celebrated, the church is present to that person at that moment."
He described the process of administering the sacrament as the same as always – except for being attired in a sterile jumpsuit, plastic glasses, a face mask, hair net, shoe coverings, and plastic gloves.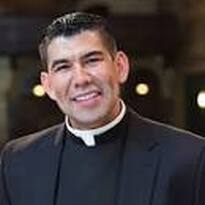 "We're going to be the first responders on the spiritual side for Catholics in Cook and Lake county," Rev. Manuel Dorantes, the 36-year-old pastor at St. Mary of the Lake in Buena Park, told the Tribune. "Whatever happens, it's going to be the 24 of us on the front lines."
The Archdiocese hopes these priests will bring comfort to families in their time of greatest need. The daunting question is how much their services will be needed.