UPDATE: Pope Francis has met with Cardinal George Pell.
The Holy Father received the former Prefect of the Vatican's Secretariat for the Economy yesterday morning, Oct. 12, 2020, according to a Holy See Press Office bulletin.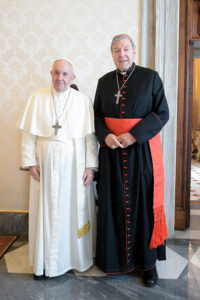 This marks the first time the Pope met the Australian prelate since Cardinal Pell was tried, convicted, and eventually–after a long stay in prison–entirely cleared by the Australian courts of abuse charges, when Australia's High Court unanimously declared him innocent.
ZENIT's Senior Vatican Correspondent, Deborah Lubov, and Vatican Insider Correspondent, Salvatore Cernuzio, were able to briefly greet Cardinal Pell at around 11:55 Rome time, after the audience, which was said to have last 30 minutes.
Asking how the encounter with the Holy Father had gone, His Eminence responded: molto bene (very well).
The Holy See Press Office did not issue a statement about the encounter, but the Vatican did circulate a brief Vatican Media video to their TV subscribers in which Pope Francis shakes Cardinal Pell's hand saying, "It is a pleasure to meet you again."
Once they sat down in the Pope's Apostolic Library for their private encounter, one could also hear Francis tell Cardinal Pell: "Thank you for your testimony."